Get Bent! Manchester
HOME > ETHOS STATEMENT
Get Bent ethos statement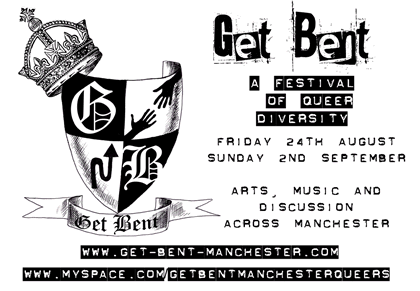 Get Bent is a safe space for all genders and sexualities and seeks to engage with and foster the possibility of creating queer-positive spaces.

Get Bent challenges the notion that you have to act or dress a certain way to be accepted.

Get Bent follows a DiY ethic, creating wide variety of programming by supporting diverse people to create diverse events.

Get Bent provides an alternative to commercial gay spaces by creating a queer autonomous space that is sex-positive without being sex-centered, doesn't depend on alcohol to have a good time, and is unafraid to put the politics back into pride.

Get Bent fosters a sense of community by being inclusive: all ages, all incomes, all abilities, all ethnicities and cultural backgrounds, regardless of HIV status, those who are comfortable in commercial gay spaces and those who aren't.

Everyone is welcome to participate in this celebration of queerness!
HOME > ETHOS STATEMENT