HOME





Get Bent! Programme



Thu 23 August - Sun 2 September 2007
in Manchester



(This page last updated on: Wed 22 Aug 2007

)

See our online calendar for last minute info



Fri 24 Aug



7:30pm
Poor Children, Perverts and Troublemakers: Being Queer Out & Loud In Poland

At the SandBar, 120-122 Grosvenor Street, Manchester, M1 7HL

Donations to Culture For Tolerance LGBTQI Festival, Krakow, Poland.

Presentation by Ida Lukawska from the Culture For Tolerance LGBTQI Festival, Krakow, about the situation of LGBTQI people in Poland, about what we do and how it is to be a "queer activist" in Poland, with photography showreel, followed by open debate discussion.

There are many differences between Poland and old western democracies like the UK I would like to focus on things like our struggle to escape various labels (like the three mentioned in the title), to create a queer community and get people active (and get them out of their closets first), on how not to get commercial and to stay ourselves, what we like and what we hate about co-operating with people/organisations abroad, on our doubts on how radical we can get, how to talk to mass media, etc.

Most of these problems are alive in the UK and other countries as well, and Misc ToMb()Y (Manchester-based Queer Activist, Artiste & Youth Worker), will briefly introduce similar issues from Manchester perspective for open debate and discussion.

Time: 6:30pm-9:00pm

Workshop, Discussion

Donations.

Sat 25 Aug



1:00pm
Get Bent! Information Point/Community Stands

Get Bent! Information Point/Community Stands

Community Info Stands, Stalls, Vegan Bakesale, Get Bent! Merchandise For Sale!

The LGBT centre, Sidney Street (off Oxford Road) will serve as a meeting point for those wishing to flyer the Pride parade.

It will also serve as an information point for those wanting to know more about Get Bent! such as programming, our aims and vision and for all manner of LGBTQI and other campaign groups and social/support organisations, such as Queer Youth Network, No Borders, Trans Youth Manchester, MORF, Citizen32 and many more TBC...

Time: 1:00pm-7:00pm

Donations.

10:00pm
Get Bent Stall, Disco Opposite Tesco @ Saki's, Rusholme

Some proceeds go to LGBT youth groups.

Village fete on Saki terrace with the Get Bent Info Stall - Hurrah!

Sun 26 Aug

12:00pm
Trans Youth Film Festival

At the LGBT Centre, Sidney St. (off Oxford Rd.)

"Trans Youth" film shorts, curated by the 'Netherlands Transgender Film Festival' (123min). Presented by Eliza Steinbock.


Jong! (Youngster!)

Wilfred Drechsler, Netherlands 2004 talk show and documentary, video, 25', in Dutch with English subtitles. Originally made as a TV show by the evangelical broadcaster EO in the Netherlands. Jamie (14) and Danique (15) are young and active girls who have many friends at school. But then the youngsters tell us about their gender dysphoria and being born as boys. In this extraordinary episode of the show, the transgender girls discuss gender dysphoria in the context of their Christian upbringing without fear or shame. EO-presentator with Jamie and Danique

37-Grad: Mein Körper, mein Feind-Transsexuelle Jugendliche - Ein Junge namens Nina (37 degrees Celsius: A Youth Named Nina) Kathrin Gugel, Ulf Eberle, Germany 2004, documentary, video, 28', in German with English subtitles.

This remarkable documentary contrasts the ways in which gender dysphoria in youth is treated in different societies by shooting a double portrait of two transgender kids, the Dutch Nina and the German Lyle.

Gewoon Liefde (Simply Love)
Eveline van Dijck, Netherlands 2006, documentary, 60', video, in Dutch with English subtitles. 41 years after the lovers Marcel and Marijke parted, a letter of request arrives from the Search Service of a city council looking for Marcel, who has now transitioned into a woman called Marcella. The old love hasn't forgotten about her Marcel.

Gemma Glitter

Daphne Schriek, Netherlands 2004, short film, video, 9', in Dutch with English subtitles. In glamourous Gemma Glitter's Health Gala (modeled after the Dutch crown prince's wife, princess Maxima), the dry-humored Dr. Andrea Amore explains to the kids what gender roles mean, and why there are boys who want to be girls and vice versa.

Time: 12:00pm-2:30pm

Free.


2:30pm
Homophobic and Transphobic Bullying, Trans Youth Talk and debate

At the LGBT Centre, Sidney St. (off Oxford Rd.)

Debbie Clements (University of Manchester MA) will facillitate a discussion on transgender experiences of schooling, looking into how we can make school more suppportive of alternative gender expressions and challenging transphobia and homophobia in all educational establishments.
Please complete the research questionnaire afterwards!

This workshop is aimed at under 25 year olds.

Workshop One: Schools and Gender Diversity: A discussion

The workshop seeks to provide a forum for young people to share their experiences of transphobia in british schooling. Working together the group aims to produce ideas about how schools can better support the gender diversity of young people in schools. (30mins)

10 min break

Workshop Two: Schools and Sexual Diversity: A discussion

This workshop provides a forum for young people to share their experiences of homophobia in british schooling. Through sharing ideas and experiences the group aims to produce ideas for challenging heterosexism in british schools and improving the support for queer pupils. (30mins)

Please note - All under 18 year olds will be politely asked to leave the venue after this workshop finishes before 4pm, to set-up the next event.

Time: 2:30pm-4:00pm

Free/Donations.


4:00pm
EROTIXXX: Trans Porn Retrospective

At the LGBT Centre, Sidney St. (off Oxford Rd.)

A presentation by Eliza Steinbock. Followed by brief Q&A Session.

(WARNING: Contains sexually explicit material - Strictly Over 18's Only!)

What do you think about the possibility of trans-sexuality, a specific sexuality for trans people and those who love them? These hard-core videos are shot from the perspective that trans bodies, in their transitioning and exceptional states of being, are desirous and moreover, delicious. Seen together, they claim a space for trans-loving and trans-sexing.

From the historical first pornographic look at the initiation of a neo-phallus (1989) to a transman on transwoman sex scene (2003), this footage is taboo breaking. Directly confronting the plethora of she-male porn that pretends to fully represent the erotic potential of trans bodies, these videos use different strategies to provide fresh and innovative erotic images of MTF and FTM trans bodies. They might change the way you see the spectrum of transsexual desire. The excerpts will be introduced and contextualized by Eliza Steinbock, a researcher at the University of Amsterdam, The Amsterdam School for Cultural Analysis (ASCA).

Excerpts from:

Dysfunctional (Mirah Soleil-Ross 1997)

The Look of Love (Charles Lofton 1996)
Linda/Les and Annie (Annie Sprinkle, Johnny Armstrong, Al Jaccoma 1989)
½ Frogs Fuck Fast (Hans Scheirl 1992-6)
Phineas Slipped (Oakie Treadwell 2002)
Trannyfags (Morty Diamond 2004)
Cubby Holes (Trannywood Pictures 2007)
JJ and Tennetty, Simon and Camden, Betsy Chainsaw and Cupid (Barbara DeGenevieve from ssspread.com 2003)
Madame Lauraine's Transsexual Touch (Monica Forrester, Viviane Namaste, Mirah-Soleil Ross, 2001)
Allanah Starr's Big Boob Adventures: Tawdry Tales of the Third Sex (Gia Darling 2006).

Time: 4:00pm-6:00pm

Donations.

7:00pm
Bent Double: Kings and Queens - Cabaret Night(Live PA)

At the Manchester LGBT Centre, Sidney St. (off Oxford Road).
Featuring:
* Dr Jane (London) - Dr Jane performs around identity, expectations and symbolism. It is much
more funnier than it sounds. Tonight Dr Jane brings you Officer Clarence
from the Gender Police...
* Daniella La Rouge (Manchester)
* Zsa Zsa Noir (Manchester)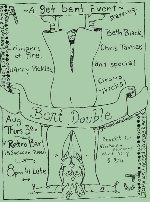 * And many more acts TBC!
Compered by Manchester's first and foremost seven foot tall tranny-punk-flaming-drag-queen-on-heat replete with MOD-style ballistic-bosoms and the fiercist tongue this side of the Pennines, come along and meet Mz Zsa Zsa Noir...

www.myspace.com/zsa_zsa_noir
Time: 7:00pm-10:00pm

Donations.

10:00pm
Get Bent Info @ Black Angel, Mint Lounge

Come along to pick up Get Bent Fliers, Posters and limited edition handmade giftpacks - what IS inside those curious brown envelopes, hhmm?!
Mon 27 Aug



1:00pm
Pink Picnic in All Saints Park

At All Saints Park, Oxford Rd.

Join us for a Pink Picnic with Vegan Bakesale, Speakers' Corner, Soapbox and Storytelling. All Saints Park, Oxford Road.

Donations.
(Bring Your Own Food, Gingham Picnic Rugs, Storybooks, Fliers & Fabulousness Donations Please!)

Time: 1:00pm-7:00pm
Tue 28 Aug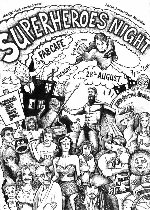 8:00pm
Superheros, Geeks & Anti-heros club night

At FAB Cafe, 111 Portland Street.

Queer superhero sounds, shirts and treats in Manchester's dalek-friendly underground for the geeky superheroes in all of us.
Prize for best dressed geek, superhero, anti-hero, queek or other creation - use your imagination and surprise yourself and everyone else!
Beautiful art creations to be raffled off to the best dressed lone vigilantes...
Dress: up, down, wrap around - superhero geeky stylee. Capes and glasses welcome.
Please note: This venue is only accessible down a flight of stairs, please contact us directly beforehand if you require any assistance.
Donations.

Time: 8:00pm-2:00am
Wed 29 Aug

5:00pm
Queer Theory from a Marxist Perspective

At the LGBT Centre, Sidney Street (off Oxford Rd.)

Workshop: Queer theorist David Alderson (Lecturer in English and American Studies at Manchester University) will talk about 'Queer Theory from a Marxist Perspective'.

Free.

Time: 5:00pm-7:00pm

7:00pm
Mental Health and Activism - workshop

At the LGBT Centre, Sidney Street (off Oxford Rd.)

'If you're not burnt out, you're just not working hard enough.'

Why do we regularly hear talk of 'burn out' in activist spaces, but rarely depression, bipolar, or panic attacks? How do macho attitudes make it difficult to address mental health issues? And why do I have to keep explaining to intelligent, switched on people that 'schizophrenic' doesn't mean 'I'm really busy and having a bit of a crap day'??

This workshop will be a starting point – for questions, discussion, sharing, ideas, and ways to speak out loud some of the stuff that's too often left unsaid.

No conclusions, no assumptions, no diagnoses required and all welcome to participate.

In the interest of privacy and creating a safe space, this workshop will be closed once it starts, so please arrive on time!

Venue: LGBT Centre, Sidney Street (off Oxford Road, Manchester), with Cass and Michelle.

Free.

Time: 7:00pm-9:00pm
Thu 30 Aug



8:00pm
Bent Double: Jokers and Aces - comedy night

At the Retro Bar, Sackville Street

Part two of the 'Bent Double' twinned events brings you Jokers and Aces -- let the finest in local Queer Comedy entertain you with a dash of Circus freakery thrown in for good measure. The line up includes:

Local Stand Up Starlets Beth Black and Chris Tavner, both fresh from performances at the Edinburgh Festival.

Comedy circuit regular Beth Black (Vanilla, XS Malarkey) may be self-confessed as 'just a nerdy lesbian, but you can't let them know that'. Others describe her as 'f**king funny' (Brendon Burns), 'A seductively intriguing cross between Marilyn Manson and Corrie's Haley Cropper' (BBC Newcastle Online)! We are intrigued indeed!
www.myspace.com/fairy_gothmother

Chris Tavner... High paced improve with a twist of Social Commentary from this bisexual socialist stand up performer gaining quite a reputation on the Manchester Comedy Circuit www.myspace.com/christavner

Debbie (aka Harry of Harry and Lou Pickles) who believes that having a lifestyle doesnt mean you've got a life! and is on a missions to regenerate the gay ghetto's through her self inflicted role as Cultural Diversity Officer for the North West. Debbie cites her pastimes as wearing just pants in the house, watching ants eat crisps and visiting people in hospital she doesn't even know.
www.myspace.com/harryandlou

The Crimpers of Fire, canal streets fake tan bitch queens who can definitely speak for themselves...' OMG like this our blurb. We're Nathan Jones and Danni LaHughes, Manchester's like officially bestest Queenz in the whole wide werld of Anal Treet. We're International Superstarzz (wanted in seven cuntries 4 sodomy & nickin Clinique from Macy's), cabaret artists and nu indie rave nightclub celebrities.'

£3-4 (this event is a benefit for the Florence and Michael Must Stay! campaign)

Time: 8:00pm-12:00am
Fri 31 Aug
4:00pm
Workshop/Discussion: How to Look Good Dressed: Body Image and Self-Expression
At the LGBT Centre, Sidney Street (off Oxford Road) Manchester.
With Jin Haritaworn (an intellectual, educator and trainee sex therapist) & Scratch (Sachi) Nehra Scratch (a visual artist, art project co-ordinator, art workshop presenter, DJ, event manager and queer/trans activist).
This workshop is a trans and people of colour-focused space but is open to all. Loving our bodies is not easy when we are constantly told, directly or indirectly, that we are not: light enough, graceful enough, tall enough, butch enough, thin enough, symmetrical enough, bulky enough, curvy enough; in short: not identical enough with dominant ideals of masculinity, femininity.
If we don't already compare our bodies to those oppressive standards and find them lacking, switching on the TV and seeing transpeople represented there reminds us that surely we must look ugly, ridiculous and unattractive.
How can we turn back the lens and celebrate our beautiful selves? In this workshop, we will look at our own and other bodies with love, respect and appreciation.
Scratch (Sachi) Nehra is a visual artist, art project co-ordinator, art workshop presenter, DJ, event manager and queer/trans activist. Jin Haritaworn is an intellectual, educator and trainee sex therapist. He presents awareness and consciousness raising workshops on race, transgender and sexuality.

Time: 4:00pm-6:00pm

Free.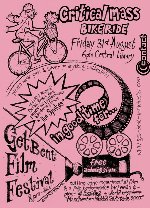 6:00pm
Critical Mass Bike Ride & Queers On Wheels!

Critical Mass Bike Ride has come over a bit queer!
Meet at 6pm, outside the Central Library, St. Peter's Square.

The ride ends at the Contact Theatre at 7.30pm at the Contact Theatre for a performance by Manchester bike dancing troupe 'The Spokes!' and in good time for:
The Get Bent Film Festival (see below) at the Contact Theatre, which will include the World Premiere of the 'bike shorts' film 'The Manchester Naked Bike Ride 2007'.
It's your city! Forget the micro-managed Pride Parade, Cycle ride around the city centre with no stewards and no corporate sponsors, just some lovely queers as it should be.
Ladies and gents, this is the real Pride Parade. The monthly mass bike ride and celebration of pedal power gets a queer makeover!
Please wear pink and silver or anything outlandish to show solidarity with global queers who are not free to party and cycle in the streets. Fabulous darling!
Check out Manchester Critical Mass website.

Free.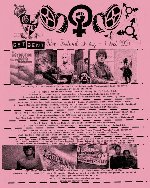 8:00pm
Not Coming to a Cinema Near You! Get Bent! Underground Short Film Night

At the Contact Theatre, Oxford Rd.

The cutting-edge of underground queer film-making from across the country and beyond comes to the Contact Theatre for one-night only.
Get Bent! has selected ten cinematic gems that explore the darkest and most humorous recesses of contemporary life.
The evening rounds off with a special performance by instrumental four-piece, 7 Hertz accompanying a black and white queer cult classic.
Followed by DJ's and late bar.
Check out music from the Leeds-based band 7 Hertz on their website.
Donations.

Time: 8:00pm-12:00am
Sat 1 Sep

1:00pm
Life in Motion: Get Bent! Documentaries

At the Council Chambers, University of Manchester Students' Union, Oxford Road.
(1) Trans-visualities 1pm - 4pm
Roya & Omid (UK/Iran ) 16 min

Roya & Omid is an exploration of transsexuality in the Islamic setting of Iran. Bardia, a young transsexual reflects on his childhood spent in the wrong body. His narrative is crossed with those of Donya, Handry and Leila, MTF transgenders still living in Iran and having to endure the daily scorn of society.

Pissing: Never Mind the Bollocks (UK) 5 min
Louis Bailey is our intrepid guide to the problems and politics of gendered bathrooms.
Muxes: Authentic Intrepid Seekers of Danger (Mexico/USA) 105 min

"Welcome to Juchitan, Mexico where the indigenous Zapotec population have for centuries warded off numerous invasions to preserve their identity. Today, Juchitan has an additional, more notorious, identity as a "queer paradise" famous for its Muxes (pronounced "Mooshays"); men who cross the gender binary and whose socially defined role pre-dates the advent of gay liberation. Winner of multiple awards across the globe, this film sympathetically conveys the daily lives of Muxes as well as just how low the glass ceiling of acceptance might be for those who push too hard."
Discussion: "Making the Trans Visual Visible" with directors
Louis Bailey, Elhum Shakenifar and Mercy Liao.
***********
Tea Break 4pm - 4.30pm
***********
(2) Queer Alliances 4.30 - 7pm
Jean Genet in Chicago (Canada) 25 min

Summer 1968: Martin Luther-King had just been assassinated and protests against the Vietnam war were reaching fever pitch...The Democratic Party Convention in Chicago became the focus of dissent for an angry cocktail of protesters including Bobby Seale of the Black Panthers and thousands of hippies who planned to contaminate the city's water supply with LSD. Events are retold from the point of view of French writer and convicted shoplifter, Jean Genet. A self-described "thief-video" this award-winning film combines disparate textual sources and archival footage in order to relate the uneasy fusion of the French poet's criminalised sexuality with late 60s American counter-culture.
The Revolution of Desire (France/Italy) 52 min

The Stonewall riots may be the touchstone event for Anglo-American LGBT rights activism, but this film tells the story of sexual liberation in France and the shifting alliances between feminists, Marxists and gay men in the struggle for queer visibility. UK Premiere.
Whose Pride is it Anyway? (UK) 15 min

A montage of unseen documentary footage of previous Manchester Prides as well as interviews, this expose documentary tracks and questions what Pride has become and unearths the "gay mafia" that has come to control it. Think all your money is going to charity? Be prepared to think again!
At 6pm, a discussion: 'Gay Village or Gay Ghetto?' (see below).

Time: 1:00pm-7:00pm

Donations.

1:00pm
The Get Bent! Big Event: Bands and Boots Up!

At the Contact Theatre, Oxford Road.
Join us for the behemoth-mother of all queer live music events in Manchester!
There will be a licensed bar open throughout, cheap vegan food available and Get Bent! Merchandise Stall, where you can get your copy of Get Bent 2007 Zine, Benefit CD, T-Shirts, Patches and music from most of the bands playing!
Doors open 1pm, live bands on stage from 2pm.
Donations (sliding scale 3 - 5 quid).

Inbetween the bands and DJ's, performance Poet Dominic Berry and
girlscout/boyscout Brownie will be doing their rounds around the crowd with poetry on demand and queer cup cakes/brownies! Yum!

The full running order of the bands confirmed to play are as follows:
Suzy Condrad (Bristol-based)

The Moot (Huddersfield-based)

Sweets For Strangers (London-based)

Hug Party (Manchester-based)

Jamie Fletcher (Manchester-based)

Kristofski Kabuki (Cardiff-based)

Ste McCabe (Manchester-based)

The Mindless Ones (London-based)

Sailor Tongue (Leeds-based)

The Salty Lips (Manchester-based)

Drag (Birmingham-based)

Town Bike (Liverpool-based)

Vile Vile Creatures (Manchester-based)

Les Figurines (London-based)

Random Pam (Stockport-based)

Followed by late bar and DJ sets from Manchester's hottest, queerest (sweatiest?!) up and coming vinyl talents... how much can you handle Get Benters?!
(Named DJ's TBC 'Yo!

Time: 1:00pm-1:00am

2:00pm
Queers of Colour Space
At the meeting room of the Contact Theatre, Oxford Road, Manchester.

A much-needed space for queer people of colour to get together and organise.
Free.

Time: 2:00pm-4:00pm

3:00pm
Making the Trans-Visual Visible
At the Council Chambers, University of Manchester Students' Union, Oxford Road.

This discussion follows Trans-visualities Film Programme.
In this panel, we'll be exploring trans(gender/sexual) visibility and representation both on and off the screen, looking at the relevance of filmic portrayals of trans people to their everyday lives. We hope to generate a discussion about the need for trans people to make their own representations in order to counteract the (mostly) negative images of us by non-trans ethnographers.
Louis Joshua Rosario Bailey (Co-director Pissing: Never Mind the Bollocks)

Elhum Shakenifar (Director Roya & Omid)

Zowie Davy (Researcher, University of Leeds)

Jack Gardner (Researcher and performance artist)

Mercy Liao (Filmmaker, Musician, Artist)

Time: 3:00pm-4:00pm

Free.

4:30pm
Queers Without Borders

At the Manchester University Students' Union.

Workshop/discussion about the No Borders Camp at Gatwick Airport that is happening from 19-24 September.

Time: 4.30-6.30pm
6:00pm
Gay Village or Gay Ghetto?
At the Council Chambers, University of Manchester Students' Union, Oxford Road.

Discussion.
This forum is intended to provide a space for a discussion of LGBT politics in Manchester past, present and future.
Would you feel safe holding hands with your partner anywhere outside the village?

Have we become just another target-market for business and the city's self-promotion?

How democratic and accountable are local LGBT quangos, super-charities and events like Pride?

A forum for the questions you've always been
afraid to ask.

With guest panellists:

Dr. David Alderson (University of Manchester)

Clare Tebbutt (Queer Historian)

Misc Tomboy (Trans Youth Manchester, Queer Activist)

David Henry (OutRage!, Queer Youth Network, Youth Worker)

Dr. Stephen Whittle (Activist & Academic, Manchester Metropolitan University)

And more TBC...

Time: 6:00pm-7:00pm

Free.
Sun 2 Sep



12:00pm
Wind-down Café

At the LGBT Centre, Sidney St. (off Oxford Rd).

Vegan brunch making/eating, moving slowly and gently, rambling conversations, with person-powered performance and open mic...

Time: 12:00pm-6:00pm

Donations.

7:00pm
The Poetry Party Night (Citizen32).

At Fuel Cafe Bar, Wilmslow Rd. Withington.

Performance Poetry, Spoken Word & Open Mic Night! Party!

Featuring:

* Dominic Berry

* Lisa B. - Our very own newly recruited Get Bent Collective Member, Lisa B. is a Canadian poet recently moved to Manchester, her website: http://www.luckygoat.org/index.html

* Michael Wilson - A fine Irish poet are headlining on the night.

All mixed in with John G.Hall,Tony Walsh & Kate Gilbert.

7-11pm

Free.

7:00pm
FUNDAMENTAL: International Art Show with Free Film

Free film screening and discussion

"With God on our Side: George W. Bush and the rise of the religious right" and Fundamental discussion panel.

7pm, September 2nd 2007 at the Zion Arts Centre, 335 Stretford Rd, Hulme, Manchester

(For more details call 0161 226 1912)

Part of the FUNDAMENTAL: International Art Show Exploring Totalitarian Religion at the turn of the 21st Century, from 2nd - 15th Sept @ Zion Arts Centre, 5th - 22nd Sept @ Green Room, Manchester.

Website:
www.fundamental.org.uk

"Like it or not, fundamentalism is not going to disappear soon. In some places it is going from strength to strength, becoming more extreme."

- Karen Armstrong, award-winning writer and academic.

When future historians examine the turn of the 21st century, one theme will stand out: religious fundamentalism. But in the West these days we hear so much about 'Islamic fundamentalism', that it's easy to get the impression that it's the only kind out there.

Mixing the work of re-knowned international artists Parastou Farahour (Iran), Mark Vallen (US), and Debbie Hill (Israel), with shocking photography smuggled out of Afghanistan under brutal Taliban rule, of post invasion Iraq, and documenting the rise of the Evangelical Christian right, 'Fundamental' is a timely glimpse into the disturbing world of global religious extremism, intended to dispel falsehoods, shock, inform and inspire debate.

'Fundamental' will tour 4 European cities between September 2007 and June 2008, comprising of a large-scale visual art exhibition, film screenings, presentations and discussions.

Fundamental is coordinated and curated by Northern Arts Tactical Offensive (NATO)

'Fundamental' is launched in Manchester (2nd-22nd September 2007) at The Green Room and Zion Arts Centre.

Time: 7:00pm-12:00am
HOME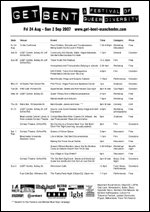 Click above to view the printed programme (small size).

Large version to print here.