Get Bent! Manchester
What is Get Bent?
A celebration of queer diversity in Manchester and the North-West.
In 2007 the non-profit Get Bent festival happened from Friday 24th August to Saturday 1st September. Free events were organised and run by a collective of people as an alternative to the mainstream commercial Manchester Pride. It was amazing what we all achieved (the total budget was just a couple of hundred pounds) and Get Bent caused quite a stir.
See the 2007 programme of events and online calendar. Here is some artwork from our 2007 posters and flyers. Our 2007 ethos statement gives some idea of what we were about.
Here's what was posted during the 2007 event...
'Erotixxx: Trans Porn Retrospective': with Eliza Steinbock from the University of Amsterdam (audio)
An audio recording of Eliza Steinbock's presentation at Get Bent on 26th August. Most of the audio from the film clips has been removed.
Please stick with this. It's only the first 30 second introduction that has a lot of echo!
Listen in the player above or download mp3 (35Mb/73 mins)
31 Aug: Underground film fans pack the Contact Theatre
Fri, 31/08/2007 - 08:15

It was almost standing room only last night as people filled the foyer and bar of the Contact Theatre for 'Not Coming To A Cinema Near You' -- part of Get Bent's Film Festival.
Thirteen short films were screened. Four were introduced by their makers as we were lucky enough to have them in the audience: A Self-critical Sinner's Murder (Mercy Liao), Black or White? (Debbie Howard), Anxiety (Trent) and Grandma and the Monster (the Producer).
The evening closed with a classic queer film short, which was accompanied by Leeds-based band 7 Hertz.
28 Aug: Superheroes, Geeks & Anti-heroes turn out for Get Bent club night
Tue, 28/08/2007 - 23:23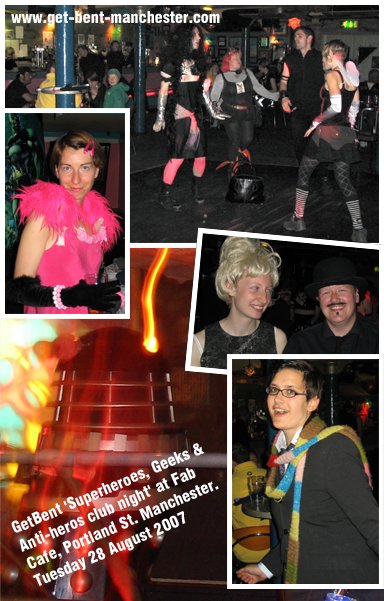 Get Bent's fancy dress club night rocked, with colourful costumes and a raffle. Amongst the famous faces that turned up were: Joan of Ark, The Riddler, no fewer than two Doctor Whos (Eccleston & Tennant), the Pink Pound Fairy, Queer Rambo, a hydrosexual and Bob the Builder.
Whose Pride is it Anyway?
Tue, 28/08/2007 - 12:31
On Saturday 1 September, Get Bent will screen previously unseen archive footage of Manchester LGBT events over the years. Along with new material that looks at some of the issues surrounding the current commercial event.
Ever since Manchester Pride became a ticket event, we have heard stories of people who were refused entry to the candlelit vigil on the final night because they hadn't paid for a wristband. The Pride organisers have always denied this, most recently in response to an email query sent by us.
Last night, the Get Bent video crew went down to the gay village to see whether our undercover reporter could get into the vigil without a wristband. Find out the answer at our film screening next Saturday.
Along with on-the-spot interviews with members of the public.
Life in Motion: Get Bent! Documentaries, Saturday 1 September, 1:00pm, at the Council Chambers, University of Manchester Students' Union, Oxford Road.
26 Aug: Zsa Zsa Noir at the Bent Double Kings and Queens Cabaret Night
Mon, 27/08/2007 - 01:58
On Sunday 26th August 2007, the Bent Double Kings and Queens Cabaret Night was compered by Manchester's first and foremost seven foot tall tranny-punk-flaming-drag-queen-on-heat Mz Zsa Zsa Noir...
Seen here performing a song.
More clips from the cabaret coming up!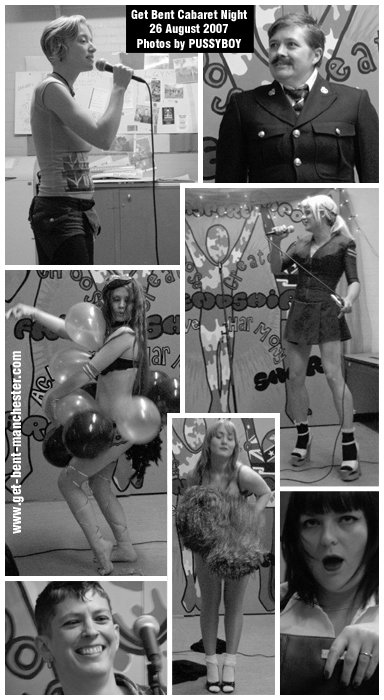 25 Aug: Activists invade Manchester Pride parade
25/08/2007 - 13:41
25 August 2007, activists invaded the annual Manchester Pride parade today in a protest against the commercialisation of this one-time community and fundraising event.
Manchester City Council boasts that Pride brings in more than £20m for the city's businesses each year. However, in 2006, just £65,000 was raised for charity by Pride.
This was one of the lowest figures in the 17-year history of the event, which was started to raise money for HIV and AIDS causes. And was despite 35,000 members of the public paying £10-£15 for an entry ticket in 2006 (entry was free from 1990-1998 and in 2000 and 2001).This year tickets cost up to £18 each.
In 2006 the organisers even charged unfunded HIV charities and groups £50 to walk in the parade.
Last year the activists were removed by Police and security. But this year they managed to unfurl their banners and walk the entire route.
At the Pride Expo event, charities and voluntary groups must pay £50 for a stall, regardless of their finances, plus £30 if they want a power supply.
This comes days after the Manchester Pride Festival Director was heckled by the public about high costs at a talk given by gay rights campaigner Peter Tatchell (an official Pride event).
24th Aug: talk by Ida Lukawska (audio)
Fri, 24/08/2007 - 22:57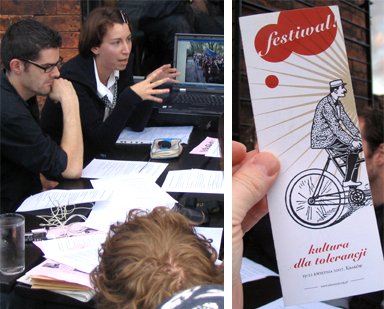 At the first event of this year's Get Bent, Ida Lukawska from the Culture For Tolerance LGBT Festival, Krakow, talked about the situation for LGBTQI people in Poland.
Listen in the player above or download mp3 (37Mb/62 mins)
Get Bent Film Festival Showreel
Thu, 16/08/2007 - 08:42
The Get Bent International Film Festival in Manchester brings you more than thirty original films from around the world. This showreel is a brief taste of some of them.
Join us for four days of film, debates, parties and more...
Get Bent! Short Films
Friday, August 31, 2007 20.00 - 00.00
At the Contact Theatre, Oxford Road, Manchester
Friday, August 31, 2007 20.00 - 00.00
At the Contact Theatre, Oxford Road, Manchester
The cutting-edge of underground queer film-making from across the country and beyond comes to the Contact Theatre. Get Bent! has selected ten cinematic gems that explore the darkest and most humorous recesses of contemporary life.
The evening rounds off with a special performance by instrumental four-piece, 7 Hertz accompanying a black and white queer cult classic. Followed by DJs and late bar.
Warning: contains explicit material.
This event is wheelchair accessible. Please contact filmfest(AT)get-bent-manchester.com for any further information.
Get Bent! Documentaries: Life in Motion
Saturday 1st September 13.00 - 19.00
At the Council Chambers, Manchester University Students Union, Oxford Rd.
Life in Motion is a wheelchair accessible event.
Please contact filmfest(AT)get-bent-manchester.com for any further information.
The music on the showreel is 'Faux Feminism' by Vile Vile Creatures
Get Bent ethos statement
Mon, 02/07/2007 - 11:53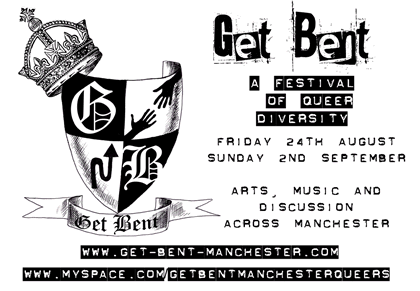 Get Bent is a safe space for all genders and sexualities and seeks to engage with and foster the possibility of creating queer-positive spaces.

Get Bent challenges the notion that you have to act or dress a certain way to be accepted.

Get Bent follows a DiY ethic, creating wide variety of programming by supporting diverse people to create diverse events.

Get Bent provides an alternative to commercial gay spaces by creating a queer autonomous space that is sex-positive without being sex-centered, doesn't depend on alcohol to have a good time, and is unafraid to put the politics back into pride.

Get Bent fosters a sense of community by being inclusive: all ages, all incomes, all abilities, all ethnicities and cultural backgrounds, regardless of HIV status, those who are comfortable in commercial gay spaces and those who aren't.

Everyone is welcome to participate in this celebration of queerness!
The website
This website is online long term as a record of what happened at Get Bent 2007. Many hours of video material were shot and more will be added to the site as time permits. So please check back now and again.
In the run up to Get Bent the website was a focal point where people could find out about and discuss the programme of events and post the latest details.
Some people told that us that, as Get Bent happened, the daily updates on the site gave them a sense of involvement, even when they couldn't attend in person.
To make the website more secure and easier to maintain long term (on a budget of zero!), the 'interactive' features have been removed for the moment and the pages converted to static ones. But if there is another Get Bent in the future those facilities will be back.
Contact us / mailing list
Send a message or get added to the mailing list.
Florence and Michael Must Stay!
One of our 2007 events was a benefit for the Florence and Michael Must Stay! campaign
The Bent Double: Jokers and Aces comedy night happened on Thu 30 Aug 2007 at the Retro Bar, Sackville Street.
Festival Programme 2007
Check out the 2007 Get Bent Programme of Events.
Some of our 2007 printed publicity material can be seen here.
Twee Pride Zine 2006
2007 wasn't the first Get Bent! But very little media is available from earlier years.
See the Twee Pride booklet from 2006 (PDF).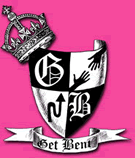 The content on this website
The photos, videos and other content have been made available for you to enjoy here on this non-commercial website and for reference and historical purposes.
The performers, creative people, professionals, members of the collective and others who contributed to Get Bent! gave their time and skills without receiving any payment.
This is not 'free' content. It may not be taken, published, exhibited or exploited in any way.
However, you are very welcome to link to our pages so people can see what happened back in 2007.
Thank you!